The King of Spring -- Preservation Through Action
Messages

176
Character Biography
The trees sighed with contentment on this early dawn, the sun only barely creeping over the horizon to greet them with the warmth of its rays. The wind blew through the leaves that they carried so gently, so peacefully. The water that flowed through the springs and rivers was as calm as the crystal blue that settled in the lakes and the ocean that surrounded the land of
Falwood
. Creatures big and small traversed the lush paths underneath the canopy, grazing, hunting, and basking in the haven of life that
he
had sought to protect for so long. It was
he
that now sat in the grove that had been his home for
ages
upon ages, naked and damp, beads of water from the wide lake that was his own personal reservoir of lifeblood for so long-running down his body. He had bathed in its soothing waters for the last time, and now he was admiring this place that he'd defended for so long. He was saying goodbye to this grove.
It was time to dry the tears that ran down his cheeks. The grove would cease to be as it was now, but from it would spring a new hope, new fervor to boil his blood and push him onwards to an even greater goal that until now had been out of his reach. This would not be his home, but the home of all of Spring.
Nairth San'Seya
, King of Spring, would make it so. His hand rising to his face, thumb swiping any hint of moisture from his eyes, the San'Seya rose to his feet and closed his eyes tightly. Imprinting the final image of the Grove into his mind, and taking a deep, final breath of the crisp air he'd grown to love so much, he began to dance.
It began as a soft sway, as though he were naught but another tree shifting under the loving caress of the breeze. The trees swayed with him, matching the bend and curve of the duanann as his feet spun him in place, fingers spreading and hands outstretching. From those fingers, he would change this land; the water in the lake began to ripple as though a looming earthquake threatened, but as Nairth raised his arms above his head the shores of the water would rise, water spilling out into the grove as if some titan had sought to bathe his body and caused it to overflow. There was a song in his head, a tune he once knew but could no longer recall the words to, as he would stomp his feet and the ground beneath him would tremble in turn, fissures in the dirt spreading to capture the water until the bed that had once been full of life was naught but a damp basin. The San'Seya spun and twirled, silver hair flying wildly in the growing wind The shaking of the trees growing even more violent, as though angered by this sudden shift in the balance of the grove.
The dancing fae was not smiling, but wearing a somber frown as his movements sped up, twisting his body and bringing his arms around his waist in self-embrace. The treetops surrounding him curved inwards sharply, leaves falling from the branches due to the sheer force of this movement as the limbs of each tree would reach out towards the center, straining to meet the others. Only a touch and they would join one another, the branches intertwining and growing around one another at the command of Nairth's will. The horrific snapping of wood, the shifting of land, and the rushing of water filled his ears, threatening to pierce the music he danced to. The tall sentinels of oak now formed a dome above his head, blocking out the sun and sky, leaving him in darkness. It was in this pitch black that the Duanann would begin to dance his way into the basin where the lake had once stood, bare feet leaving patches of the barren dirt that had been hidden by the water lush with budding flowers and grass everywhere he stepped.
Once his movements had carried him to the bottom of the empty lake, Nairth dropped to his knees, bringing his palms down into the wet dirt. He could still feel the tiniest forms, clinging to life at the empty lake bed as his fingers dug into the muddy ground. He could only offer a silent apology as he opened his eyes, glowing a pale shade of green as he let that last breath he'd taken escape at last. The final act of his performance would take every ounce of his concentration, every bit of power he held to complete.
Outside the dome of trees he'd created, across the entire expanse forest that covered southern Falwood, rocks would begin to tremble in the ground both large and small, from loose pebble to ancient boulder. Some moved quickly, uprooting from their spot and flying through the air towards the dome, others needed time to free themselves before Nairth's call could drag them to their destination. From his spot in that now dark and lonely grove, The former Hand of Oberon sent a call to all the stones and rocks his voice could reach. A call to action.
And when they met at the end, they would collide just as the trees did, meeting and becoming one to form walls, great towers of stone, rooms, and hallways shaped by the force of the San'Seya's will. The entire forest sounded with thunderous crashing as nature itself constructed a great castle, tall and enshrouded in the mist of morning. This would be the home of the Spring. This would be where the change that Nairth sought to create would begin.
He would call it
Grovehaven.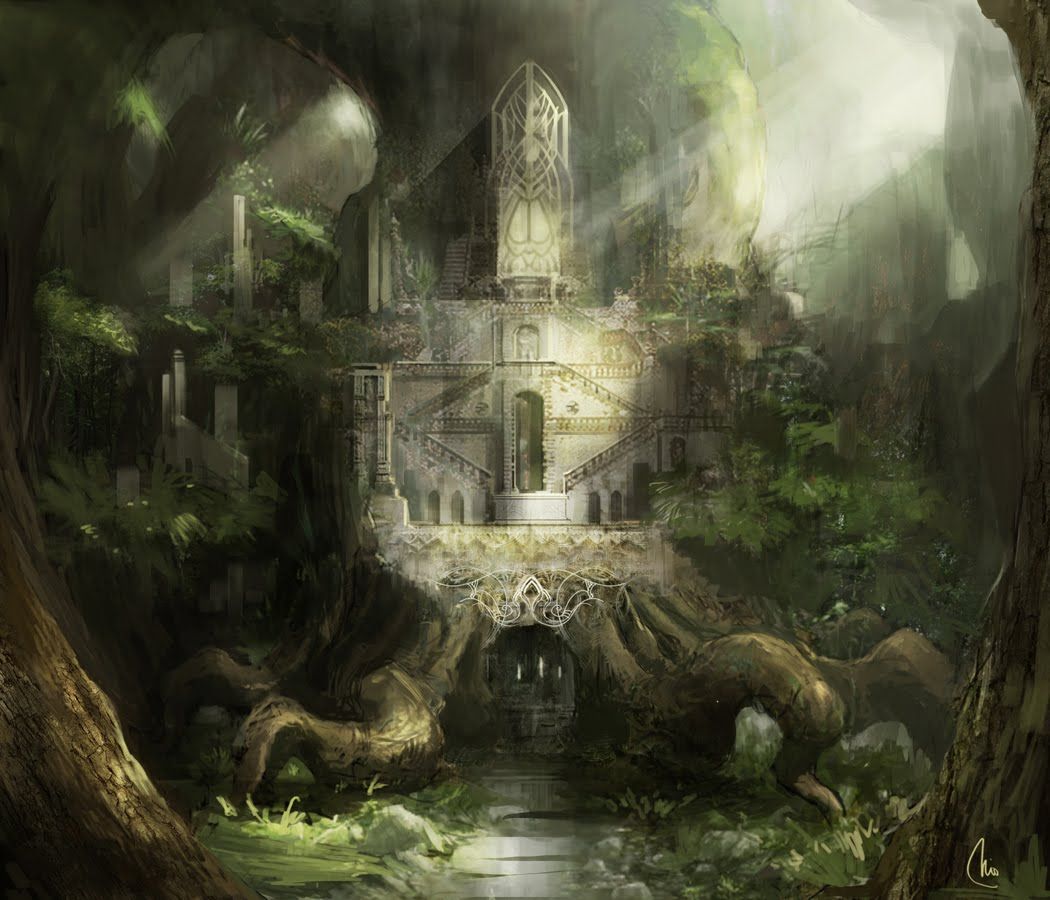 ---
"They are beginning to arrive, Father. Are you ready?"
From what remained of the tree he'd once sat on, fashioned into a throne at the apex of the highest tower in the newly fashioned Grovehaven castle, Nairth smiled gently at his only remaining son, Tharu. The younger fae was no longer under the effects of a curse from his father, and he wore robes of emerald and gold similar to that which Nairth had worn as Chamberlain. Fitting, as San'Seya had chosen Tharu as the new Chamberlain. It was through this great change that the two of them had mended their relationship. Well... that, and what a certain warlock had said to him some time ago... Nairth did hope to see that fellow here. They both owed him no small deal of thanks.
It was good to see that his invitations had been received. The ray of sunlight he'd bent to extend into the heavens from the castle was no longer a necessity, and with a have of his hand it was dispelled.
"Yes, Tharu. I am more ready than I have ever been. This means everything now. I take it that the hall is prepared?"
The base of the tree-crafted dome that Nairth had created now had a wide gateway to the interior, and a path had been cleared to it from the edge of the forest. What had once been Nairth's grove was now a grand hall, long tables arranged perpendicular to one another and adorned with nothing short of a feast's worth of food, and a fortune's worth of spirits and liquor. In lieu of candles or lanterns, exotic glowing
plants
grew from the walls to illuminate the hall. Banners bearing the mark of Spring hung from the ceiling, and the ground beneath one's feet was the same grass and beds of flowers that had always thrived in Nairth's care.
Today was the day that Nairth San'Seya would be crowned the King of
the Spring Court
. He was to have the crown placed upon his head in front of his kin, and deliver words to them all. He'd been thinking long on what he planned to say. In the end, he could decide on nothing that would not draw the ire of at least one of the other courts. So be it. He would let his agenda be known, and let his enemies show themselves.
"Yes. I'll be heading down to serve our guests as well, of course. If I may ask... do you really intend on such inflammatory remarks?"
Nairth's eyes narrowed to glare at his son.
"You've been reading me, have you? What have I told you about that?"
Tharu immediately seemed to shrink at being scolded. Really, it was unfair of Nairth to blame his son; their blood was unique in the connection it granted them with one another. It was no difficult feat to discern exactly what the other was thinking at a glance should one wish. It was a notable San'Seya trait. Still, Nairth didn't appreciate the invasion of privacy. Nevertheless, his expression would soften, and he would sink back against his throne, bringing a hand to his forehead.
"I suppose it can't be helped. Never mind it, Tharu. In truth, all I can do is speak my own truth. It would be more disrespectful to lie to them all than it would be to tell a truth they dislike."
Tharu seemed to mull on those words silently before a sound from beneath them broke the quiet air. It seems their guests had entered the hall. Nairth offered a nod to his son.
"Go, I shall be behind you very shortly."
From one of the many staircases that led from the hall up into the castle, Tharu descended to greet their guests. Despite his newfound status, he still dressed oddly for a Fae, especially one as young as himself. His similarly silver hair was tied specifically to hang over one shoulder, and his robes were far more modest and concealing than anything his father would wear. Stopping at the bottom, he spreads his arms to greet the arrivals.
"Welcome, my friends! Please, have a seat, eat and drink to your heart's content! My name is Tharu San'Seya, and my father will be joining us very shortly so that we may begin!"
Nairth listened from high above, rising to his feet and walking slowly over to the window. These clothes were so unfamiliar, garb of silver and blue with pronounced shoulders and sleeves, with a long-skirted bottom that made him wonder why he didn't just wear his normal robes. His disgruntled disposition was softened lightly as he gazed out of the window. The sky was clear of any kind of cloud, the air warm and comforting. He could feel the forest teeming with life, even without the grove. It made him feel at ease; they did not need his constant supervision, and the loss of his grove would not stifle growth here.
This was still his home. Now, it was time to put it to use.