Messages

7
Character Biography
the family
was welcome for this charity gala that would hopefully raise money for the poor orphans who were not gifted enough to find their home in the Dreadlord Academy.
It was the first gala that gala that
Mina Pirian
was hosting and she had spent way too many hours making sure every single thing was perfect. She had, of course, used the knowledge of her parents and her older brother to get prepared for this evening. The waitstaff and the caterers were all trusted by the Pirians and they had been used before. The auctioneer, the decorators, and the musicians were also no strangers to this estate.
She had pulled out all the stops and she was ready. She could do this.
Mina
had only been out of the
Anirian Guard
for a few months now and she was determined to help others. Tonight those others were the orphans. The non-magical ones, duh.
She stood in front of her mirror and gave herself one more look to make sure she looked as beautiful as this evening was to be. She did. Her black hair had was loose with large waves coalescing through it and her makeup was simple yet refined. She wore a dusty blue a-line
gown
that had beautiful floral details stitched on the bodice. She thought she was on point tonight.
With her inspection complete, she made her way down to the ballroom.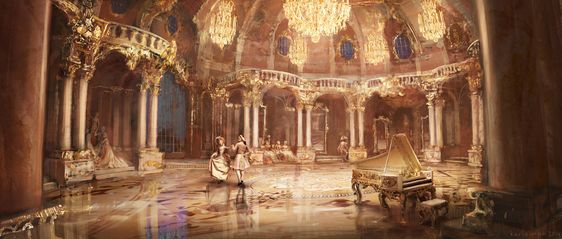 ​
Mina stood in the gilded bathroom and smiled. The alcoves were ready for guests to sit and gossip. There were several tables with gold linens and chairs arrayed around the edges as well as some standing tables dressed the same way. The musicians had been set up and the servers had started to walk around the room with drinks as well as finger foods.
It was time to welcome her guests.