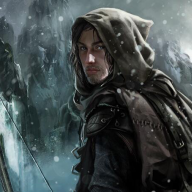 Messages

79
Character Biography
Weylin was seriously confused by this woman. He never claimed to be the most socially perceptive, but it was impossible knowing what she wanted. Could be she just hated him but the thought of seeing a real giant was causing her curiosity to overpower her loathing. As for the man, if he wasn't using a bow then what was he shooting? There was no spear on him or throwing hatchets. Could he had a sling hidden in his clothes? That was probably it. Slings were pretty effective in skilled hands after all. He once watched one of the shepherd boys kill a bear with two stones using only a sling. It was impressive and something he could never pull off with arrows. If this person was that good then it made him feel a little better.
They began to walk down the road heading for the giants' camp and he expected what he usually would hear. He expected the low hush of the river as it flowed not far away. He expected the rustling of leaves and needles as the wind swept through trees. He expected to hear the calls and patter of animals as they went about in their hidden places. He expected the wilds. Instead he got humming and a song. It was one he had never heard before too. It was pleasant and she was good at it. Was this what it was like when city folk traveled?
Weylin paused for a moment. He glanced back at
Rainie
and said, "Pretty. Thank you for the song." With that he continued on fully expecting the usual wilds to return after that treat of a new experience. He didn't expect anything more than a 'you're welcome' then silence. He didn't really know what to expect though anymore after everything.
Weylin's mind drifted back towards what his two new companions could do. They didn't seem like hunters or sheriffs or guards to him. He would think they were merchants or owned a tavern, but she had already gotten upset at the idea of that. He honestly wasn't sure what they were. All he knew was they weren't married and.... Actually, he didn't know that for certain. He had assumed it when she said companion instead of husband but what if people from the city just didn't call each other that around strangers. They certainly were strange enough to him already so it could be possible. Maybe that was why she was upset earlier. It was because he didn't realize she was someone's wife.
It took him a moment but eventually Weylin glanced back at
Faurosk
and asked, "You two are married yes? And you are a merchant or own a tavern? As nice as your clothes are I'm not sure what else you could be." Alright. He had fixed it. Now she would forgive him for not noticing sooner and he was not being so awkward.