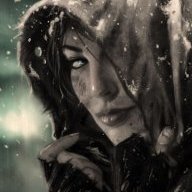 Messages

137
Character Biography
"Oh thank the gods"
Dianaimh gave a grateful sigh as she sat down on the bed. It was a crude straw mattress but the four walls and a roof were the best accommodation they'd had in a few weeks. No more sleeping back to back for warmth or waking to a freezing morning and cold fire. There was even one for
Esmeralda
as the other mage had made clear she wasn't going to share one or sleep on the floor so her employer could have a good night's sleep.
"Yes there will do fine" she said with a casual wave of her hand, one of the staff bringing in their packs and their other belongings. The chest they'd lugged all the way from the crypt was still there, its secrets sealed away. Dian tried to act casual considering she was down to her last few coins. She'd managed to dazzle the innkeep by a strategic lean onto the bar counter, all with Esmeralda's stony glare on her.
"This is nice isn't it?" she beamed at her bodyguard, waiting for the door to shut with the staff. "Though I'd almost miss
Ragna
's company. That last mile was heavy with all that".
'All that' being the few scavenged antique weapons, the chest, and a few assorted bits and pieces. Not a rich haul considering what they'd gone through.
Esmeralda