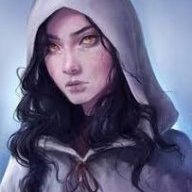 High Priestess Of Bastellen
Member
Messages

166
Character Biography
It had begun to rain. Luna had pulled off her cloak and let wash over her.

The chill of the air on her wet skin reminded her of home. Not the tundra.

But her older home. On the coast. During the winter the sea spray would often feel like this. She closed her eyes as they walked up the steps and stopped for a moment to savor it.

She was a peaceful healer. A tender soul locked in the tattered remains of her body.

She was a delicate rose that was forced to be used as a sword. And it seemed Luna had faired about as well as a rose used as a sword.

She walked with a limp. Her black eye never closing. Her healing magic was getting weaker. She coughed more. Black blood stained the corners of her mouth and nose. Her good eye was bloodshot from the stress of the fights and journey.

But even as every step seemed to bring pain not once did she complain, not once did she stop for any reason than Eleanor wanting to rest. This was Luna's way. No priestess in Bastellens ranks had ever carried their cross like her. She embodied unselfish dedication. If only she had found a church or something other than this...

"Black Rock keep." She said as they arrived. It looked little more than a cave. As they reached the top of the stairs and entered the cave Luna's legs began to wobble.

"Pup!" Luna cried out reaching for Eleanor to hopefully help lower her down. Ever since her fight with Valkery she had been in a bad way.

Something about being bonded to another's book as well as something the madam may have done without either of their knowledge either way her condition had been slowly going down hill.

There was only so long a mortal could channel the void. Inside the cave was narrow. Torches of black void fire burned in their brackets. A heavy black iron door sat at the very end. It opened and Elise poked out her head.

"Oh it's you two. Where the hell have you been?" She asked with a good natured smirk. "Come on in. She's waiting.." Elise said with a slight tone of fear and dislike for this "she."

"She's right. Maywynn must not be kept waiting." Luna said trying to stand and falling back to her butt. "Just go without me. I need to..catch my..breath.." Luna wheezed our panting between words.

"Void sickness?" Elise asked. "Hack up a lung for yes. Don't Hack up a lung for no." Luna actually opened her mouth to retort.

"Ha. Your jokes are as-ack!" She said as the sudden string of speech left her coughing and retching until a genuine lump of void gunk that seemed to move on its own for a minute before settling. "I'll...I'll take care of that. Common up you come you old wolf." "I am not old you sleezy pit viper." Luna shot back.

"Yeah yeah hisss hisss." Elise retorted with an eye roll. Despite her generally abrasive and aggressive manner the way Elise handled Luna after seeming to realize her sickness was a drastic change to her usual behavior.

Elise had a look in her eye that was as foreign to her as a genuine emotion was to Luna. It was compassion.