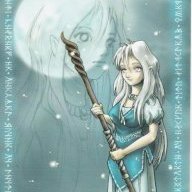 Messages

220
Character Biography
"I would not know of such things, Draedmyr," she said, her heart twisting in her chest as she spoke. "I have neither child nor apprentice. When I was young, I craved power and had no time for such things as followers or families. And now...."

She made a gesture, as empty and devoid of meaning as her life was. Once, she had the choice. Now she did not, and now she had no purpose, either. "It is good that you have something to drive your forward with purpose," she said after a long moment of contemplation. She was certain that the objectives set forth for him in his life are what had driven him to remain alive so much longer than his kin.

She looked out the window, and saw that night was falling. The sun cast golden light across everything, the shadows growing long. Had they really sat at a table and whiled away an entire afternoon? Of course they had, she realized with a rueful expression. Time meant less to him than those around them in the common room, and was utterly meaningless to her.

Whatever confounding thing had twisted her emotions into knots remained. She did not understand them, but did not wish to examine them too closely here, in the common room, or in the presence of her savior and companion. "Where do we go from here, in the morning?"