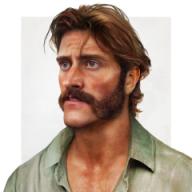 Seeking knowledge is always a constant journey.
Member
Messages

62
Character Biography
Myles Widogast had been with an audience of Elves as he was sent there by his Master; Maho Sparhawk to initiate in his primary training. Months and months of hard work, sweat and blood have passed and it was time that the Elves send him on his way to become greater than what he is now. Keeping constant contact with his Master, Myles packed his things in preparation for his Exodus. The two were planning to head to Elbion for some business matters, but who knows what they would encounter on their way.
---------------------------------------------------------------------------------
Myles woke up and was greeted by sun rays piercing through the tree canopies and shining into his boarding room. The Elves of Fal'Addas had let Myles sleep in a spare bedroom that was used by apprentices before him. It was very basic but it was comfortable enough. Sitting up he took a brief yawn and rubbed his eyes thoroughly.
Today was the day
Widogast's training was done and his mentor would be coming to greet him and they would set out on the road yet again. Jumping out of bed, Myles slipped his boots on and started packing his things. His satchel was stuffed with things he brought on the journey to Fal'Addas and even things he acquired during his stay with the Elves. His grimoire and notes he had taken, were carefully stuffed inside the leather pack.
Istare--the Elder, knocked on the young man's door
"Myles? I do believe.....it is time.....Mhi'thren fel shah (your departure from here)"
Looking at the room one last time, he clasped the buckles of his pack together and grabbed his stave that he crafted on the way here.
"Istare, shen-feh ye vreen (Istare, thank you--I shall go)"
Opening the door, he was greeted by the Elder whom gave him a curt nod as he motioned with his hand, showing him the way to the outside. It was a sunny and beautiful day and various bystanders looked on as this human was leaving their settlement for the foreseeable future. Pacing down the elegant steps, he was stopped by Istare's words.
"Myles. Stay true to your path and remember what we taught you"
Nodding in agreement, he turned around and gave a respectful bow to his hosts.
"Thank you for your audience, great ones. I shall remember my studies and what you have taught me"
With his staff in hand, Myles traversed through Fal'Addas on his way to the main gate.