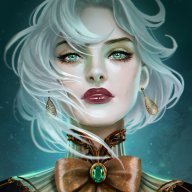 The White Reaper
Monster Hunters
Messages

54
Character Biography
They had survived. All of them had survived. The band of Idiots had entered the mists, traveled to
Pandemonium
and returned, and the only death was one of the four mages who they had met in the mist. Valkery was sure that if the mercenaries had not held their nerve so well and taken orders without question, the outcome would have been very different. Though all of them were exhausted, the air in Pandemonium had put a strain on all of them.
She looked around, the mist was gone, they were back in the fields of
Elbion
but everywhere the ground was destroyed and the
plants
were dead; a desolate wasteland. She looked around to see who had made it back, taking a mental note but not taking any action. Now that they were out she was content to step down from command, at least as far as the other idiots went. They seemed to be able to take care of themselves.
Instead, she assessed the state of the mercenaries, They had taken the brunt of the demon attack. Her eyes then fell on Trajan. She approached him "I am a doctor, if you or any of your men need healing I would be glad to help," She said.
Trajan Meng