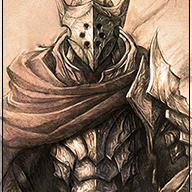 Messages

752
Character Biography
Aberresai Savannah - Templar Fortress Herath
Saul stood quietly on the very beginning of the massive stone bridge that spanned the gap between the mountains. Before him lay Herath, one of the three great Fortresses that had been built by
the Templar
of old. It's stone wallsstay lay mostly in tact, though parts of it had crumbled.
Behind him lay nearly half of the Broken Sword Templar, and with them were dozens of engineers, workers, and their families.
Saul had emptied nearly the entirety of the Broken Sword's Vault's to pay them all, but it would be well worth it. This Fortress was to be their new home, it was to mark the return of the Templar Order proper. He had invited all those whom he'd made his pact with and more.
They could attend if they wished, they could join his garrison if only they asked.
Herath would be rebuilt, it would be reoccupied to it's former glory.
"Saul?"
​
A hand landed on his shoulder and he turned back, spotting Edwin with a worried look on his face. The New Lord Captain of Broken Sword only nodded, gesturing towards the Fortress.
"Let's go."
They crossed the bridge within a few minutes, the gates already opened by the party that Saul had sent on ahead.