Chaceledon
Unknown
18,673
Currently enslaved by the undead
Dragon
Male
6'8"
185lbs
Copper
Violet
Pale
Fashion designer, specifically a jeweler
Out-of-character information
Moulder
Mythka on Deviantart for the Dragon/Unknown Model by Gabriela Valverde
summary|An archtypical beauty hiding a troubled past, Chaceledon has learned humility through suffering. What was once an arrogant young dragon with the world at his feet has become a shell seeking true fulfillment.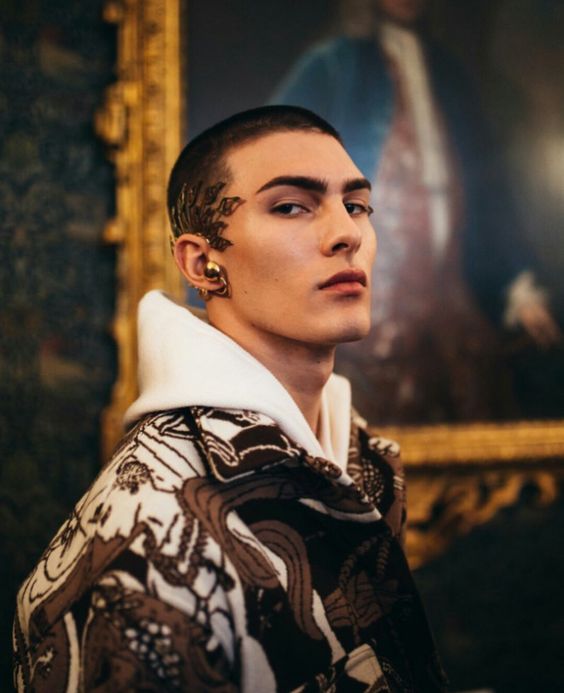 Appearance
Chaceledon is tall and willowy, with cat-like violet eyes and high cheekbones. His face is distinctly androgynous, and he takes great pains to have his skin flawless. Chaceledon is all about appearances, and it shows. Perfectly plucked eyebrows, carefully stained lips, and pierced ears all contribute to his look. His benchmark are his glass nails, which are softened with dragonfire and moulded to his fingertips, often extravagantly decorated. Likewise his clothing is always overwrought and planned, usually in warm dark palettes of purples and coppers.
Skills and Abilities
Chaceledon is a dragon, and can breathe fire. However, when he is cold this flame is limited to a very small gout, the likes of which could barely maintain his nails or warm a campfire. He is uniquely immune to flames, and as all
dragons
favors warm locales. Cold is his enemy in all things, as he cannot properly maintain his body temperature alone. Without a pit of warm sand or a hot locale, he is unable to use magic.
Dragonforging:
Chaceledon is gifted not only as a lapidary, but as a blacksmith. Thousands of years forced to craft weapons for the Volker family has resulted in him unknowingly rekindling the lost art of forging with dragonfire. Weapons forged this way have the unique ability to flex without compromising strength, meaning blades will not shatter and will last their owners generations.
Luscious Lapidary:
Chaceledon has a keen eye for gemstone and precious metal grading. He was once infamous for making pieces that delicately interlocked and unfurled into statements of glass, precious metals, and rare gemstones. His cuts are impeccable, and make the stones easier to enchant.
Fashionista:
Your best ally at a party, Chaceledon makes sure everything is done within the trending fashions of
Arethil
. If a small boutique is skilled in one area, he knows about it. He knows fits, cuts of fabric, and how to best compliment even the most unflattering of figures.
Details, Details:
Chaceledon forged an empire by reputation, and that meant he had to pay close attention to fine details of people he was trying to get the attention of. He is attuned to body language, etiquette, and the art of raising up or eviscerating an enemy by words alone.
Personality
Chaceledon's enslavement has given him a biting wit and a tongue of lashing steel. He is quick-witted to cut down others, and it takes quite a while to penetrate his defenses. Once one has earned his loyalty, he is a ferociously protective friend. He is overly fussy, concerned with his appearance, and absolutely refuses to 'rough it'. Unlike the Volkers he has spent centuries cultivating and helping to raise, he has very few survival skills. He is more at home at a gala than the woods, and wouldn't be caught dead getting his feet muddy.

Despite his picky nature, Chaceledon can be a protective ally or lover. He is loyal and while he doesn't love easily he loves hard. Any enemy of a friend, he considers his own enemy. He also has a weakness for children as he nurses a large matronly streak.

On the flip side, if a person earns his ire it is incredibly hard to gain his affections again. Bring jewelry.