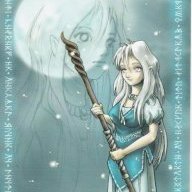 Messages

368
Character Biography
She scowled at the man that sat across the table from her, glass of red wine in hand. Her mood was not improved by the fact that she could barely see over the top of the table, and had to crane her neck to look the fellow in they eyes.
"You do not understand," the man began for the sixth time. Her scowl deepened as she motioned him into silence with the wine, eyes like polished chips of pale, purple ice. How she longed to be able to lean over the table with a proper degree of gravity. That was not really possible, not in a place designed to cater to elfin and human patrons. Being fair to the owners, it wasn't as if her kind were particularly prevalent. Still.
"I hired you to perform a job. You said you knew where there was a structure like I described," she said in frosty tones. "You said you would lead me there for a price." A cold eyed stare. "Instead, you tried to rob me."
They were seated in the common room of an inn in some flyspeck village out in the middle of nowhere. The tree-carpeted ridges made of it and idyllic little place along the major trade route to
Alliria
and points east. Currently, they were the only ones there, barring members of a caravan that were stopping fir the night here. A casual glance at the newcomers, and then that auguring stare was back in the skinny fellow.
"Sorry, mistress, I'm so sorry. Please-"
She cut him off with a gesture, and he obediently went silent. She continued in her high pitched, almost childish voice. "Save your apologies," she replied coldly. "Get out of my sight."
She took a sip of her wine as he left, watching him over the rim of her goblet. He wouldn't soon forget the lesson she gave him for his failed attempt. Many would have killed him, but she didnt see the point. Regardless, whether he had liked it or not, he had played the part of her shield until they got here.
She tsked to herself, vexed. The forest here was risky, and she had need to travel it. Worse, there was an old place she wished to visit, that of an old friend who may or may not even still be alive.
But the millenia had changed the land beyond recognition, which was always a problem for her. Most people never really traveled the world in truth, but she had. It might he several hundred years between visits to one place or another. Or more.
Things changed.
She waved to one of the serving girls imperiously, and when one arrived, she gestured to the notice board. "Put it back up. Eventually some sdventurous....person will earn those crowns." It wasn't like she was in a hurry. Nor was it like she had a shortage of time.
Tuilinn