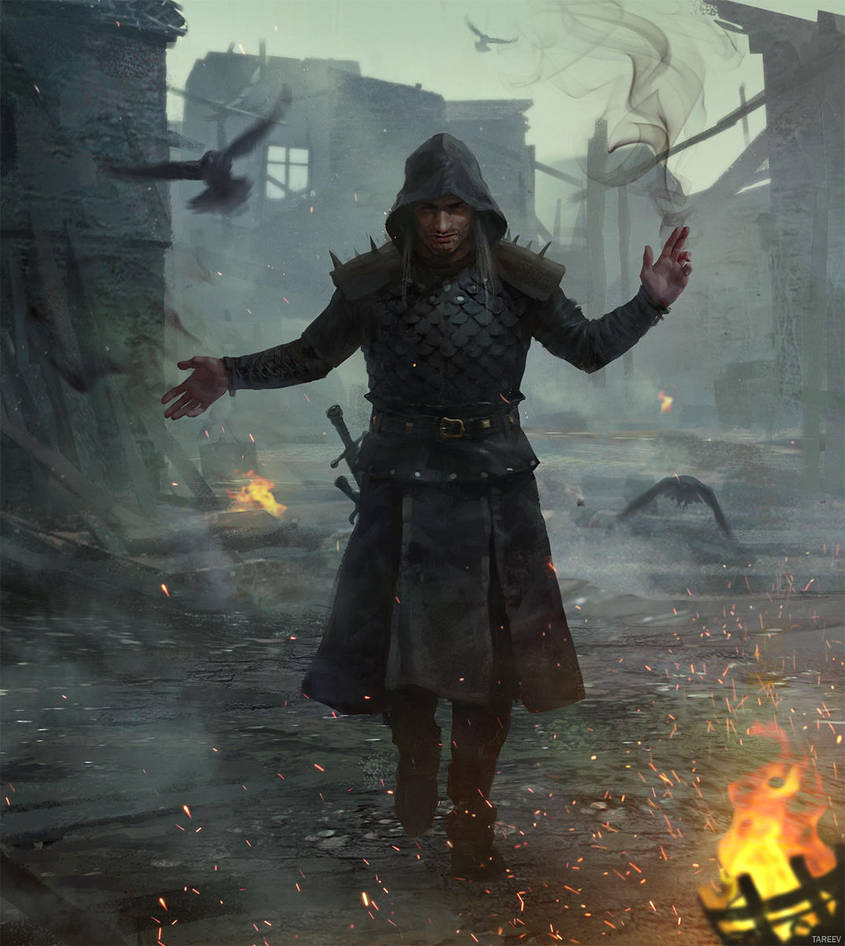 Voraak Tyrethian
Unknown
Possibly nearing his 30's
Unknown
Human
Male
~6ft.
Unknown
Dark Brown (almost black)
Ice Blue
Pale
Out-of-character information
MylesWidogast
11/5/2018
Battlemage by Tareev (DeviantArt)
Appearance
Usually obscured by his hair or his worn hood, Voraak doesn't have a friendly demeanor. Wearing darker mail armor and donning an unusual sword, his origins aren't well known by others. His voice is somewhat gravelly and can sound broken at times. His ice blue eyes almost have a magical aura to them and his face is lined with hair stubble and a scar that goes down his right eye.
Skills and Abilities
Martial Combat-
Voraak learned basic swordplay from his father who worked as a mercenary for various patrons. He uses his sword as a last resort to end things.
Magic-
As a former student of
Elbion
, Voraak was able to tap into his magical ability and perfect his techniques in various magicks. Voraak is able to call a raven to him and use it as his eyes/ears when needed.
Other than calling a raven, Voraak can wield elemental magic and use as projectiles to hammer his enemies. Frost is a form of magic that Voraak thoroughly enjoys and will utilize it every chance he can.
Personality
Voraak's personality is quiet and reclusive most of the time. He prefers to only talk once he has sized up who the other party is. Dark humor occasionally slips into the mix but Voraak is usually in a state of reflection and thought.

Voraak will employ roles and speech mannerisms in order to get closer to what he wants. He will act, steal, kill and bribe others if the situation will call for it.
In addition, Voraak shows a gentler side when prompted to. He is no stranger to the horrors of life.

There will be times where Voraak's social skills will be brought into question, and he will try to charm ladies (which has varied results)and act polite most of the time. Otherwise he will bite and sting with witty remarks if provoked to do so.