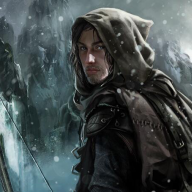 Messages

144
Character Biography
The Spine
was an untamed wilderness full of mysteries, long lost treasures, and even more dangers. It was a place of
orcs
and
dwarves
, of giants and barbarians, and of beast both mythical and magical. For some it was death and some hard won reward. To Weylin it was home.
It had been some time since Weylin had left the newly constructing orc fortress. His feelings on them was... it wasn't something he wanted to think about now. What he did want to think about was what to do now that the river port city of Glacen was in sight. Well it wasn't so much a city as it was a large town, but he couldn't imagine what the difference would look like. This place was over three times bigger than the largest town he had visited. It seems being situated on the great river connecting Crobhear Lake and the Gulf of Ryt attracted people. Everyone wanted dwarven goods and it was the far easier option when compared to roads through the dense forests and high hills around the mountains.
Weylin began to follow the road down to Glacen. What had his mom said about the town and just places this big? Oh right! Don't believe everything people said and keep your coin purse well hidden. He didn't have any coin so he didn't have to hide his purse. Hopefully they were friendly. Snow seemed to pick up on this. She began to demand attention from him by pushing her bulk into his hip. He frowned down at her for a moment before it just shifted into an affectionate smile. Scratching was her reward as they walked up to the town walls and open gate.
Sebast