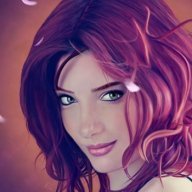 Probably in trouble.
Member
Messages

49
Character Biography
Somewhere in the wilds of Elbion....
"Ey, Marv, whattya gonna do when yer all rich an' famous?"
Firelight danced across the far wall, throwing shadows across the moss covered
ruins
and the four men sitting in a loose circle around it. The one who'd spoken, a burly man with a large, greasy looking beard, leaned forward and pitched a small twig at the man in question -- Marv -- who was currently hunkered over a meticulously drawn map that was spread across his knees. Marv brushed the twig off of the map with a loud sigh.
"Well, Greer, first we needs ta get the treasure, y' moron. Stop interruptin'!" Greer scoffed at Marv's irritated tone, leaning back and kicking at one of the logs in the fire. A cascade of sparks shot into the air, several of them drifting over to land on the map and smoulder through its surface, leaving tiny black holes in it.
The small lump sitting on the ground between them, her hands and legs bound in way more rope than seemed necessary, let out a strangled sound of protest around the dirty fabric they'd used to gag her. She was a pretty thing, redhair, porcelain cheeks peppered with ginger freckles, and emerald eyes with long lashes, but bore evidence of the mens' rough treatment, including a rapidly swelling bruise on her right cheek. She wore a pale blue dress over top of thick, sturdy, knee-high boots, ink stains on the edge of her dress and along the neckline. Despite the bounds, she squirmed towards the fire, as if intent on putting herself between the dangerous flames and her precious map.
The man next to her grabbed her shoulder, dragging her back roughly and giving her a hard shove. "Stappit," he snapped, then looked up at his companions. "Any time y' wanna share with us where th' treasure's at, Marv, we're all ears." He spread one hand mockingly.
Marv shoved the map off of his lap in annoyance. "You think its that easy?! Ain't nothin' here but scribbles an' nonsense!"
The redhead's eyes got huge as she stared at the map, only a hair's breath away from falling straight into the flames…
"Aw, come on, it can't be that hard. Th' bartender said she had it all mapped out, all nice like, said this was a surefire job, just follow 'er and nab 'er shit," the final man said as he stood and snatched the map up, holding it up and squinting at it. After a moment, he glanced to either side of him… and turned the map a quarter turn. No, he seemed to decide, he'd had it right the first time, and he flipped the map back… only to turn it 180* a moment later.
Greer snapped it back from him. "See! Ain't tha' simple!" He smoothed the map over his knees once more, setting his compass on top…
… and the redhead let out a muffled sound of protest that sort of resembled a heavily enunciated 'Excuse me?' Greer raised his eyes to her, then jerked his chin at the man sitting next to her. "What?!" he demanded.
Verys held still as the man next to her jerked her gag off and out of the way, taking a moment to spit the foul taste of the gag out of her mouth before straightening up. Turning her attention to the man holding her precious map, she heaved a sigh.
"That isn't even the map for this continent," she pointed out. "And please do be careful, it's quite impo--"
The man next to her cuffed her again, knocking her onto her side with a squeak of pain and protest. "Shuddup, smartie," he growled, shaking his head. As he turned back to the fire, he found Greer staring at him with an annoyed expression on his face.
"Don't kill 'er until we find the treasure!" he bellowed. "Now shuddup and lemme concentrate!"
He stormed away from the fire and over to where the redhead's belongings were -- a large satchel that had been emptied to reveal some dried meats and fruits, but primarily no less than a dozen different maps and scrolls and books, the most obvious one a large red covered journal with dog-eared pages. He took the map he'd been holding and tossed it near the back of the pile, rummaging through the other maps, muttering himself the whole time about so called 'surefire' money and troublesome redheads and damn empty ruins…
Verys pushed herself up into a sitting position once more, wincing at the compounding goose-egg on her cheek… How very uncouth.