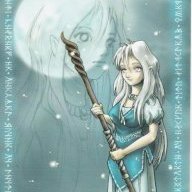 Messages

255
Character Biography
The sun was low to the horizon, and as it dipped lower and lower it cast the world in syrupy golden light, sharp shadows a strong contrast to the light slanting over distant mountains. Broadleaf trees stood among sparse firs at this altitude, far below the treeline and even further from the snow. Summer reigned in the valleys, the sweet scent of green growth,of life, filled the air.
And why is it I can think of naught but death?

The melancholy thought belonged to a tiny woman sitting next to a camp fire that crackled merrily, thin smoke wafting through the air, diffusing through the trees. This was trackless wilderness, at least to any but the
elves
that lived here. The camp was neat, but simple; a cleared space for the fire, ringed with rocks carried from a nearby stream, a cleared place devoid of stone or root, piled with limbs to serve as a mattress. Thankfully, the skies did not threaten rain and hadn't for days, else it would have been a damp one.
All of her supplies had been lost. But tent and sleeping rolls were the least of the treasures this diminutive woman had left behind.
The woman.
She was clearly not an elf, though she had the long, pointed ears of one. Perhaps a bit shorter than the tree-dwelling folk, at that. She would barely stand waist height to an elf, though, and many human children would swiftly overtake her in height as well. To a very casual glance she looked a child of ten or so, though closer inspection would prove maturity rather quickly. She wore a modest dress a little worse for wear, pale blue with arcane glyphs embroidered at hem and neck.
But her flesh also bore the mottled green and yellow of healing bruises, and her eyes bore the scars of loss: red rimmed, deep dark circles beneath. She seemed cheerless despite the warm air and the life of the forest around her, staring into the dancing flames despondently. A polished staff, four or so feet in length, lay on the ground beside her, its length covered with carved vines, roses and thorns so real that it defied the mind to think of them as decoration.
There was something timeless about this woman.
She sat in contemplation of recent events, almost oblivious to the world around her. Predators would not, as a general rule, bother her. As to more humanoid threats...
...well, she couldn't hardly make herself care, then. Just staring into the flames.
And remembering.