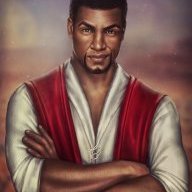 Messages

713
Character Biography
It was a long day for Willis.
He spent most of his time in
Elbion
doing a contract for a nobleman. His garden was infested by Goblins who have been stealing his newly grown fruits and vegetables along with rare flowers and herbs. The only reason Willis accepted the contract was that he was promised 100 coins. Goblins were easy and predictable creatures to take out and Willis was going to get a huge payday out of this, It was going to be easy right?
It turned out, the nobleman was the most frustrating part of the mission. He would but heads with Willis, telling him not to kill the Goblins in the garden because he didn't want to shed blood on the garden that has been in his family for generations. So Willis had to come up with a plan to lure the Goblins away from the place. Taking the fruit from the garden, Willis placed the fruit in the basket and set up a contraption which would drop a burlap sack on them. The young man then hid behind the bushes lying in wait for the
monsters
.
An hour later, two Goblins unarmed were drawn towards the fruit taking advantage Wilis sprung the trap encasing the Goblins inside the burlap sack. The creatures yelled as Willis quickly tied them up and dragged them outside the garden before bludgeoning them to death with a wooden club. Of course, the old man was an ungrateful bastard, he complained that Willis used things in his garden, therefore "tainting" them forever and only gave him 5 coins. Willis protested, but the knights he had by his side ended the conversation.
Being a Monster Slayer was a thankless job, Willis wouldn't mind it if it paid well but people always looked at monster slayers as cheaper alternatives to Witchers. Sometimes Willis wished he didn't get suckered into getting a license to becoming a Monster Slayer. The next place he went to was the
College of Elbion
, the oldest and one of the more prestigious schools in the world. A week ago, he took a flyer out from the notice board talking about an expedition to find some lost Frog Temple or something. All Willis knew was that this Professor needed bodyguards to traverse through the Woodlands, and if one thing that being mercenary had over a monster slayer was that the pay was consistent.
Approaching the College gate, Willis was greeted by armored guards who glared at him. "What do you want," the guard on the right sneered. "A ruffian like you shouldn't be near the College."
"This Ruffian," Willis replied. "Is exactly what's needed for one of your professor's expedition."